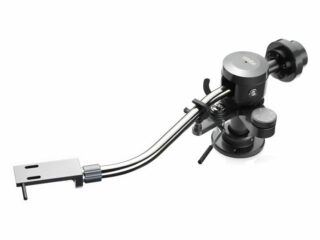 PRIS:
15 400 kr
med media kort
Ortofon TA-110 9″ static-balance tonearm
TA-110 has gone to the next level by reducing unwanted vibrations in the tonearm. Ortofon's material know-how is the first area of the Ortofon technology that was applied when developing the TA-110. As a specialist in technical rubber, Ortofon used one of its special rubber compounds when creating the specially shaped rubber with high vibration dampening properties. The rubber pieces are produced at the Ortofon technical rubber facilities in Nakskov.
The second area of Ortofon technology is the extensive knowledge of vibration properties and characteristics. Ortofon has acquired this know-how via the developement of Bone Conductors for hearing aid industry. By using this knowledge and the related computer programs that simulated vibration in different shapes and materials, Ortofon came up with an optimized TA-110.
TA-110 Technical data
Effective mass without headshell: 3.5 g
Mass of supplied headshell: 15.5 g
Effective armlength (distance between the stylus and pivot point): 231.0 mm
Mounting distance (distance between the pivot point and turntable center): 213.0 mm
Offset angle: 23.9 degrees
Overhang: 18.0 mm
Tracking force adjusting range direct reading: 0-3 g
Tracking force adjusting range with extra mass ring mounted: 0-4 g
Height adjustment range: 35-55 mm
Diameter of the armbase mounting hole: 19-20 mm
Diameter of the center shaft of tonearm: 18.0 mm
Inner null point: 66 mm
Outer null point: 120.9 mm
Counterweight for cartridge + headshell mass between 21 and 28 g included
Headshell LH-2000E included, weight: 15.5 g
TA-110 total weight including headshell: 470 g
Set of tonearm cables 6NX-TSW-1010 included
Extra mass ring for heavier cartridges included, weight 45 g
Features
• TA-110 is a static balance gimbal type arm, easy to use and adjust for optimal VTF settings.
• TA-110 has a standard 5-pin DIN connector for tonearm cable.
• The tonearm geometry allows for a Baerwald alignment (also the IEC recommendations).
– Inner scale to be applied with main counterweight.
– Outer scale to be applied when extra mass ring is added.
• Counterweight will work with headshell+cartridge mass approximately in the range 20 to 28g
• TA-110 is fitted with a standard headshell connector and can easily be adjusted in accordance with the included mounting template.
• Extra mass ring for heavier cartridge and headshell combinations included.
•Extra mass ring weight 45 g.