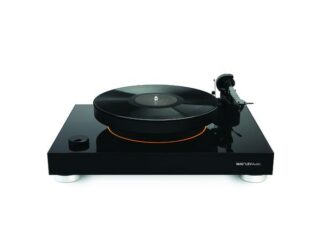 PRIS:
31 500 kr
med media kort
ML1 Black Silver Edition
This black model has a cover made of composite wood material lacquered to a high-gloss "piano black" finish for a striking effect. The black aluminium and plastic housing is designed in combination with silver anodised aluminium shock-absorbing feet and a spindle. A silver MAG-LEV Audio logo is added to the front panel to complement the silver anodised feet.
Drive System
The drive system in this turntable is where all the magic is. It is completely different than anything else on the market. By using our innovative and patented technology, we were able to not only achieve magnetic levitation, but also to maintain the incredibly precise turning of the platter with sensor regulating software.
Semi-automatic System
In order to help keep your precious vinyl records in pristine condition, the turntable lifts the tonearm at the end of the record. This function keeps records from being scratched and prolongs the life of the cartridge.
Cueing Mechanism
When it comes to vinyl, the cueing mechanism plays a vital role in the listening experience. The gentle drop and the precision of the needle is what make the entire process feel even more satisfying.
Tonearm and Cartridge
The turntable comes complete with the Pro-Ject Audio 9cc Carbon Tonearm with carbon-fibre armtube and OM 10 stylus from Ortofon.
All the models also come with an option to upgrade to either the Ortofon 2M Bronze or Ortofon 2M Black moving magnet cartridge.
33.3 and 45 r.p.m.
Switch between 33.3-rpm and 45-rpm with just a turn of a button. To ensure you have everything you need,  a 45-rpm adapter has been supplied, so you can enjoy all types of records.
Platter Feet
Platter feet have been added, allowing the platter to rest when switched off. These feet automatically retract when you begin using the turntable, and when the tonearm is placed back in its original position, the feet will automatically rise up and so that the turntable can be safely switched off.
Safety First
In case of power outages, the turntable has been designed with a UPS system, which stores enough power to safely lift the tonearm, stop the record, and return the platter feet to resting position. This way the turntable and record remain in perfect condition even when the unexpected happens.
Illumination
Subtle led lighting, in amber or white, has been added,  giving the turntable a sleek, futuristic feel, and further enhancing the visual effects of levitation even when the lights are off.