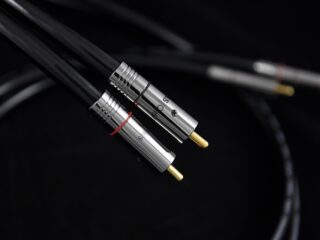 PRIS:
1 750 kr
med media kort
Dessa kablar kan du köpa i olika längder som: 0.5 M pris 1450:- , 0.75 M pris 1600: , 1.5 M pris 2000:- , 2 M pris 2250:- .
I samma serie kan du även köpa :balanserade kablar ( XLR ),digitalkablar 75 Ohm ,även 75 Ohm med BNC kontakter,samt högtalarkablar.
Product Information
The Hyper Integra is available as a:
Stereo Pair
Subwoofer Cable
The Atlas Hyper Integra is a superior asymmetrical or unbalanced design with a well-defined impedance of 75 ohms. The central conductor is made from 80 strands of OCC of 99.9997% purity and which is insulated by an extremely low-loss foamed polyethylene dielectric. The return conductor is a two-layer braid made from a total of 272 strands of Ultra-Pure Oxygen Free Copper. The double layer of tightly woven wire mesh also provides 100% rejection of radio frequency interference (RFI) ensuring that the music signal is free from any external interference or noise. The conductors are covered by a soft PVC sleeve in a gloss black finish.
The Hyper is terminated with exclusive Atlas non magnetic RCA plugs. These plugs benefit from a solder free, cold weld interface between the pure OFC copper co-axial stranded conductors and the plug for both the going and return signals. Being free of solder, another barrier to the free-flow of the signal has been removed.
The Integra plug employs two conjugate brackets:
Conjugate bracket RCA plug
These brackets grip the cable without compressing it. Compressing a coaxial causes the cable to alter its impedance from 75 Ohms thereby causing deletions. In a digital interface the impedance can drop to some 40 Ohms which causes reflections and jitter. The Integra plug lets more information through.
The Integra plug with conjugate brackets entirely rejects radio frequency interference all the way from the plug to conductor interface so there's less deletions or interference. It contains four asymmetrical sleeves that are sprung and which spread on insertion thereby cleaning the plug to socket interface everytime the plug is inserted. It's easy to keep a clean signal path with the Atlas Integra plug: just remove it and re-insert it! The plug uses a non magnetic Polycarbonate cover which may avoid a saturation in the return leg at an RCA plug's metal sheath if it's in the signal path. The Integra sheath facilitates a direct barrier free return signal path with less interference.
The end result of this new development is a natural-sounding interconnect that neither subtracts from the music, nor adds any false details or unwanted colouration; additions that are often heard as "improvements" to sound. This outstanding new interconnect cable is a perfect match with the Hyper range of speaker cables; allowing music-lovers to achieve a superior signal path for their music, which will suit both their pockets and their ears.
Complementary products
Complementary products are the pseudo balanced Hyper Symmetrical interconnect with RCA plugs, the fully balanced Hyper Symmetrical interconnect with XLR plugs, the Hyper digital SP-DIF cable with RCA plugs or BNC plugs, plus four speaker cables: the Hyper 1.5, the Hyper 2.0, the Hyper 3.5 and the Hyper Bi-Wire.
All Hyper speaker cables are made with 6n pure OCC conductors and Teflon dielectrics; the Hyper 3.5 will satisfy listeners that want more bass from larger speakers, the 1.5 should be used in systems where bass is not a prerequisite and the Hyper 2.0 is the cable that suits most systems; it's the one to audition first. If speakers are designed to be bi-wired, then we recommend the use Atlas of bi-wire cables; they use two solid conductors for high frequencies and two stranded conductors for low frequencies that are matched for their characteristics. Read more here.
Recommended accessories
Recommended accessories for even better results are the Atlas noise reducing Shield Caps and Atlas Eos power cables with Eos modular power management system.
Removal of the brass links between HF and LF terminals typically provided on speakers, and their replacement with better quality Atlas links will also contribute to much improved sound and listening pleasure.
DNA of Atlas Audio Cables
The Atlas range of products has gathered 'five star' awards and superb reviews since its introduction.
For those who'd like to know more about the technology behind these cables, we have a technical document DNA of Atlas audio products.
Help line
For more information and advice, call us on 0800 731 1140 (UK only) or + 44 (0) 1563 572666, or e-mail us.
Tell me why should I buy Atlas cables?
Read more about the design and manufacture of Atlas cables.
Click here to locate your nearest UK dealer or here for international distributors.
Product Specifications:
features
Construction : Co-axial (95/0.10)
Conductor Material : OCC
Screen : Yes
Dielectric : PE / PEF
Outer Diameter : 9.0mm
Connector : Integra RCA Plug
available lengths
Stereo Pair :
0.5m, 0.75m, 1.0m, 1.5m, 2.0m
Also available in Custom Lengths.
Subwoofer Cable :
1.0m, 2.0m, 3.0m, 5.0m, 7.0m
Also available in Custom Lengths.
technical data
Capacitance (pF/m) : 71.54
Resistance (Ohms/m) : 0.0239
Inductance (µH/m) :
0.542.