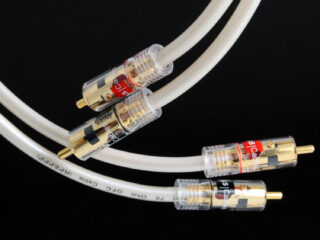 PRIS:
650 kr
med media kort
Denna Kabel kan du köpa i andra längder som:  0.5 M pris 550:-,  0.75 M pris 600:-, 1.5 M pris 750:- , 2 M pris 850:- , 3 M pris 1050:-.
Element kablarna finns även som Balanserade ( XLR ) och HDMI ,USB,Coax  ( 75 Ohm ), samt Optiskt och Subwoofer kablar.
Product Information
The Element Integra is available as a:
Stereo Pair
Subwoofer Cable
The Atlas Element Integra asymmetrical interconnect shares many similar features to its stable-mates in the Atlas line. It employs a braided copper and aluminium foil giving a 100% screen to provide rejection of radio frequency interference (RFI), it employs high quality Ohno Continuous Casting copper (OCC) for its conductors together with a low loss porous polyethylene dielectric (PEF).
The Element was researched and developed by Atlas in order to provide a better than average, high quality, entry level interconnect.
The Atlas hallmarks of precise focus and three dimensionality are immediately evident.
Following from our research and development programme, the Element is fitted with our entirely new Integra non magnetic RCA plug. The plug benefits from a solder free, cold weld interface between the pure OFC copper co-axial stranded conductors and the plug for both the going and return signals. Being free of solder, another barrier to the free-flow of the signal has been removed.
The Integra plug employs two conjugate brackets:
Conjugate bracket RCA plug
These brackets grip the cable without compressing it. Compressing a coaxial causes the cable to alter its impedance from 75 Ohms thereby causing deletions. In a digital interface the impedance can drop to some 40 Ohms which causes reflections and jitter. The Integra plug lets more information through.
The Integra plug with conjugate brackets entirely rejects radio frequency interference all the way from the plug to conductor interface so there's less deletions or interference.
It contains four asymmetrical sleeves that are sprung and which spread on insertion thereby cleaning the plug to socket interface every time the plug is inserted. It's easy to keep a clean signal path with the Atlas Integra plug, just remove it and re-insert it!
It uses a non magnetic Polycarbonate cover which may avoid a saturation in the return leg at an RCA plug's metal sheath if it's in the signal path. The integra sheath facilitates a direct barrier free return signal path with less interference.
The Element coaxial cable employs one woven screens for rejection of radio frequency interference.
Finally the Element with the Integra plug is provided with a unique seriel number and a five year guarantee. The guarantee may be registered by post or by filling out our product registration form. Buyers may be confident they've purchased a genuine Atlas cable, researched, developed and produced in Scotland and made from the finest materials available.
The improved Element Integra is an entry level audio interconnect for discerning music lovers. Like all Atlas interconnects, it provides a huge sound-stage together with a smooth delivery. It avoids the over bright and irritating sound so often a feature of similarly priced interconnects. Rather in common with all Atlas interconnects, irrespective of price, it offers the listener a sophisticated and relaxing sound with no artificial highs or lows and most importantly, it offers the user fantastic value for money. Just look at the construction, the OCC copper, the quality asymmetrical construction, and the conjugate bracket Integra plug; there's nothing else quite like the Element Integra.
Visit an Atlas stockist today, and try the Element Integra and enjoy the sophisticated and revealing broad band sound.
Complementary products
Complementary products are the Element HDMI digital cable and two speaker cables: the Element 2.0 and Element Bi-Wire.
Both speaker cables are made with OFC conductors and foamed polyethylene dielectrics; the latter of those cables, the Bi-Wire will satisfy listeners that want more information. These complimentary products are designed to match with other products in the Equator range.
Recommended accessories
Recommended accessories for even better results are the Atlas noise reducing Shield Caps and Atlas Eos power cables with Eos modular power management system.
Removal of the brass links between HF and LF terminals typically provided on speakers, and their replacement with better quality Atlas links will also contribute to much improved sound and listening pleasure.
DNA of Atlas Audio Cables
The Atlas range of products has gathered 'five star' awards and superb reviews since its introduction.
For those who'd like to know more about the technology behind these cables, we have a technical document DNA of Atlas audio products.
Help line
For more information and advice, call us on 0800 731 1140 (UK only) or + 44 (0) 1563 572666, or e-mail us.
Tell me why should I buy Atlas cables?
Read more about the design and manufacture of Atlas cables.
Click here to locate your nearest UK dealer or here for international distributors.
Product Specifications:
features
Construction : Co-axial (10/0.12)
Conductor Material : OCC
Screen : Yes
Dielectric : PEF (Polyethylene)
Outer Diameter : 6.0mm
Connector : Integra RCA Plug
available lengths
Stereo Pair :
0.5m, 0.75m, 1.0m, 1.5m, 2.0m, 3.0m
Custom Lengths also Available.
Subwoofer Cable :
2.0m, 3.0m, 5.0m, 7.0m, 10.0m, 15.0m
Custom Lengths also Available.
technical data
Capacitance (pF/m) : 63.03
Resistance (Ohms/m) : 0.1612
Inductance (µH/m) : 0.3735.