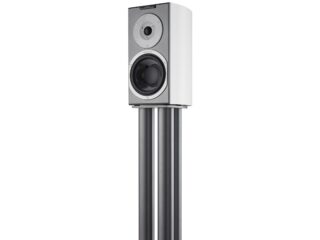 PRIS:
38 000 kr
med media kort
COMPACT HIGH-END PERFORMERS
The R 1 Series delivers a speedy response with great details and dynamics. The design makes handling of percussions and bass notes easy in a clean and natural way.
These 2-way, rear-ported stand mounters, use a non-parallel tear drop design to minimize internal standing waves. Using many concepts derived from their bigger siblings, SR 6 & R 3. The R 1 Series delivers a precise soundstage with nerve and punch belying their actual size. These small wonders will leave the listener wanting for more.
The Audiovector Freedom Grounding® system eliminates distortion and improves overtones, lowers the noise floor and increases image depth and focus. Freedom Grounding® is yet another step closer to perfection. Only on Arreté models.
SEC Soundstage Enhancement Concept
A technology, which makes it possible to improve dispersion, lower compression and create a huge soundstage in all three dimensions. This technology was developed by Audiovector to create a more natural and articulate performance.
AUDIOVECTOR CARBON DRIVERS
By using a new high-tech membrane consisting of cross woven carbon fibers sandwiched with artificial wood resin, the new membranes are the foundation of more dynamic, more detailed sound from the new R-series titanium voice coil drive units.
Finns i färgerna: Svart Ask, Vit, African Rosewood och Italian Walnut
Tillbehör: Audiovector Stand
Specifications
| | |
| --- | --- |
| FREQUENCY RANGE -6DB | 42-28 kHz |
| SENSITIVITY (8 OHM) | 87 dB |
| NOMINAL IMPEDANCE | 8 Ω |
| POWER HANDLING | 160 |
| X-OVER FREQUENCIES | 3100 |
| PRINCIPLE | 2-way |
| BASS SYSTEM | Bass reflex |
| BASS/MID DRIVERS | 6.5″ Carbon |
| TREBLE DRIVER | R Evotech |
| HEIGHT / WIDTH / DEPTH ( CM ) | 37 x 19,6 x 29 |
| NO ENERGY STORAGE NES | Yes |
| NON PARALLEL SURFACES | Yes |