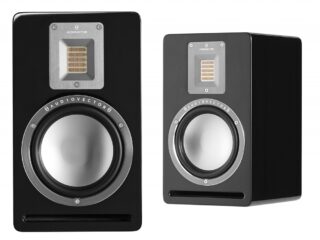 PRIS:
17 900 kr
med media kort
QR1
Finns i färgerna: Vit, Piano Svart och Mörk Valnöt.
What is missing from the QR range is the unique upgrade path offered by Audiovector in its SR line. The QR loudspeaker is what it is, there is no provision for sending it back to Audiovector to improve it. This concept works extremely well for the SR line, where owners of, say, an S6 Super tower speaker of 2001 can get it returned to the factory and get back a 2016 SR6 Avantgarde Arreté, even getting the colour or finish of the loudspeaker changed to taste in the process. However, such a concept is impractical at the QR level, because the costs to the end user of creating a worthwhile upgrade on a €1,000 loudspeaker would be prohibitive.
These QR loudspeakers are designed to reach the next generation of audiophiles; people who might not have grown up collecting the best quality recordings on vinyl or CD, but who want the best possible sound from their music and are beginning to discover the difference between basic Spotify and Tidal. This is not a high-end loudspeaker that is scaled down and compromised in the process. This is a loudspeaker that sounds good irrespective of source, but sounds great and very 'big' out of the box. There is also a consistency between both models, as you are simply adding more bass (perhaps for a larger room) in the QR 3. As a consequence, both QR models have an effortless ease of musical replay and an unfussy, musically forgiving nature, but without sacrificing that basic taut rhythm and musical insight of the company's better models. They also have surprisingly good bass for smaller loudspeakers, and this, coupled with a detailed tweeter, will make for a sound that is as easy to live with as it is 'on trend'.
These loudspeakers also mark a transition within the company, as the loudspeakers are the first design produced completely by Mads Klifoth, who took over the reins of the company from his father and company founder, Ole. Ole still brings decades of his own design expertise to the company (true retirement for someone like Ole is unlikely, because companies like Audiovector are effectively powered by passion, and that passion doesn't just switch off), but the QR models are effectively the design brief and proof of concept for Mads' view of where Audiovector is heading.
We think it's heading in the right direction! The QR range is launched later today.
Specifications
| | |
| --- | --- |
| TWEETER TYPE | Gold Leaf AMT with S-stop filter |
| FREQUENCY RANGE -6DB | 45-45 kHz |
| SENSITIVITY (8 OHM) | 87 dB |
| NOMINAL IMPEDANCE | 4-8 Ω |
| X-OVER FREQUENCIES | 3 kHz |
| POWER HANDLING | 150 W |
| HEIGHT / WIDTH / DEPTH ( CM ) | 32,5 x 19 x 23,2 |