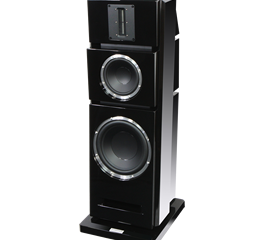 PRIS:
100 000 kr
med media kort
Advance Paris, Creator of emotions
Advance Paris is a story of passion, passion of this job of creator of emotions, shared with a team all invested in the quest for perfection. Created by two music enthusiasts more than 20 years ago, Advance Paris – at the time Advance Acoustic – designs its first speaker based on three fundamental points: the cabinet, the speakers and the crossover . To date, this first orientation remains more than ever news. Nurtured by the experience we gained during the development of our XL-1000 stallion enclosure, we imagined the XL-500 in the same philosophy, but at a more affordable price.
The cabinet
The speaker is based on three completely separate volumes, each independently supporting bass, midrange and treble. These volumes are shifted on the same vertical plane so as to maintain a temporal phase.
The solution applied is interesting insofar as it avoids the integration of phase correcting circuits in the filtering. In addition, by isolating each speaker in an independent box, the transmission of vibrations from one speaker to another is non-existent. The sound restitution remains clear on all the frequencies.
To manufacture such a cabinet requires an absolute rigor of manufacture and a choice of raw material first choice which only a few cabinetmakers can answer. Composed of structural panels in wood powder associated with a synthetic binder, these composite panels are characterized by a homogeneity in the 3 dimensions and acoustic performances superior to the traditional panels OSB or PP. Finally, each cabinet enclosure is subject to an individual control of tightness of the assemblies, both at the belt and the front and rear of the cabinet. Finally, we use damping materials specifically developed to effectively treat these standing waves. Their usage patterns are precise, so for each model, our designers determine the positioning, density and volume of the acoustic foam used.
The speakers
The speakers of the XL-500 have been developed specifically to meet the strict specifications required. The 12 "/ 307mmm woofer is equipped with a 49.5mm voice coil providing a magnetic field of 1.8 to 2T allowing dynamism and responsiveness adapted to all types of music.
The boomer and the medium of 20cm are equipped with a high density cone made of linen paper protected by a protective film. The requirement of lightness and rigidity of the cones is thus completely respected.
The cones are equipped at their periphery with a half-roll surround fixed on the loudspeaker chassis. The high frequency reproduction is provided by a ribbon tweeter providing a detailed rendering in the treble without aggressiveness. Transparency and clarity are at the rendezvous.
The crossover
Advance Paris has developed a precise and rigorous filtering technique respecting the electrical and acoustic phase. The choice of the best components, air chokes, polypropylene capacitors, precision ceramic resistors, non-radiating positioning of the components between them, judicious cutting frequencies.
Specifications
XL-500 Woofer: 12 " (30cm)
Midrange: 8 " (20cm) Ribbon Tweeter: (12.5 x 3.5 cm)
Frequency response: 32Hz – 23kHz
Sensitivity: 94dB (2.83V / 1m)
Nominal impedance 8 Ω Crossover frequencies: 250Hz / 2500Hz
Recommended amp power 30 to 300W
Dimensions: H 114.5 x W 38 / 41cm x D 41 cm with base
Weight: 72kgs