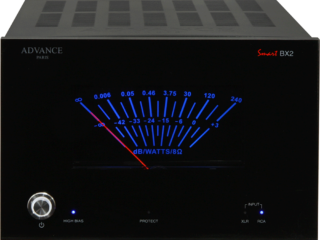 PRIS:
10 000 kr
med media kort
Our aim was to offer to the worldwide music lovers a higher quality level,, so we decided to launch Advance Paris brand, the outcome of 20 years of experience in the quality audio reproduction. Advance Paris brand was exclusively dedicated to our « High End products».
Since now two years, the first premium products that were launched are the mono amplifier X-A1200, the CD player with valves X-Cd1000 and an integrated amplifier X-i1000.
For the 20 years of Advance Acoustic brand, we are proud to present you our new Smart serie, which incorporates our new Advance Paris trademark.
The Smart range is composed of an integrated amplifier AX1, a stereo power amplifier BX1, a DAC/Preamp DX1 and one preamplifier PX1. Will follow a streamer SX1,a mono power amplifier BX2 and a CD drive MX1.
Really elegant Serie by its design, the Smart Line is technically and acoustically at the cutting edge of the best products we can find at this day.this one was developped for really demanding audiophile people that don't want to do any compromise.
The Smart serie is marketed under Advance Paris brand, our premium trademark.A compact serie of products, not mini, not micro.
The reason is simple. The quality of Hifi products depends largely of their power supply quality and used components. A qualitative power supply needs transformers with right size. An efficient power amp circuit integrates power transitors generating high temperatures.So an adequate ventilation is required as a minimum volume. So a product miniaturization is not possible, except using technologies or amp classes that we do not endorse.
215 Watts of fineness
The BX2 is a 215 Watts on 8 Ohms mono power amplifier. Advance Paris development team has been inspired by our X-A1200 reference amplifier to create the BX2 amplifier. This amplifier can drive all types of speakers  and it is totally polyvalent for HiFi or home-cinema use.
The BX2 integrates best selected components and special effort has been done on the power supply part. Oversized toroidal transformer combined to 10.000uF/80V capacitors enable the BX2 to provide high current level. Our BX2 provides Cinch (unbalanced input) or XLR ( balanced input) connectors, switchable on the rear panel.BX2 has a High Bias function, that allows the amplifier to deliver the first watts in a similar A Class.
After that, the amp will be working in Class AB. Gain adjustment (-12,-6,-3 or 0dB, dimmer switch, upgradable port and bi-wiring speakers terminals complete unique features of this audiophile mono power amplifier.
Available in black or white color.
SPECIFICATIONS
POWER OUTPUT – 8 Ohms : 1 x  215W
FREQUENCY RESPONSE (-3dB) 10Hz-50kHz
DISTORSION < 0,008%
S/N RATIO = 105dB
INPUT IMPEDANCE (UNBALANCED) 47KΩ
INPUT IMPEDANCE (BALANCED) 47KΩ
STANDBY POWER CONSUMPTION 0,45W
GAIN 20dB
AC INPUT 115-230V
TRANSFORMER(S) 1
DIMENSIONS OF THE AMPLIFIER H.150x l.230x D.280
DIMENSIONS OF THE CARTONS H.240x l.320x D.390
NET WEIGHT / GROSS WEIGHT 8,4 / 9,4 kg