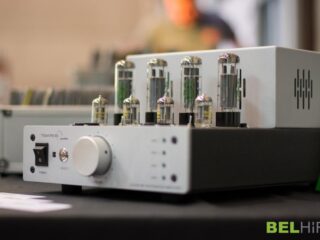 PRIS:
16 000 kr
med media kort
N u äntligen så kan vi presentera Tsakaridis rörförstärkare hos oss på HI-FI Skåne AB. Den första produkten som vi packade upp var Aelos , som för tillfället är den minsta  integrerade rörförstärkare som Tasakaridis  tillverkar . Det kommer  ännu en integrerad rörförstärkare , lite senare i höst , som kommer att kosta lite mindre.
Du kan även uppgradera denna förstärkare med bättre rör i framtiden eller varför inte direkt ?
OBS ! lämplig högtalare kan vara Heco´s nya Einklang , som är så bra ,och är som gjord för rörförstärkare som Tsakaridis, Välkommen  hälsar Lasse .
DETAILS
Tsakiridis Devices Aeolos Integrated Amplifier :
ON DEMO AT THE SHOP – Tsakiridis Devices produces "affordable high-end" audio equipment for music lovers all over the world since it was established in 1987.
Tsakiridis spent many years creating audio devices for themselves and for enthusiast friends wanting to experience true "high-end" audio reproduction but without investing their life savings in the process! They enjoyed this so much that Tsakiridis decided to turn their passion into a business.
The mission, right from the start, was to make high quality audio equipment at a price/performance ratio that would set it apart from the rest – equipment that really does sound good, is easy to live with and looks rather attractive too. That's why all their products are hand crafted in Greece, using the highest quality components available.
Aeolos is their best selling amplifier. It's a basic integrated amplifier but with superior sound. No need for preamplifiers when using Aeolos. It provides 4 line inputs, motorized blue Alps volume control, all remotely controlled. With push – pull configuration in class AB1, it provides enough power to drive low sensitivity speakers.
Features :
Aeolos, Tube Integrated Amplifier, 2 x 35 Watt,
(4 x EL 34, 4 x 12AT7).
Aeolos Plus, Tube Integrated Amplifier, 2 x 45 Watt, (4 x 6550, 4 x 12AT7).
Remote Control.
Four (4) Inputs Rele's Line Selector with Tape Out.
High Grade Selection Rele's.
Alps Volume Control.
Matched Input & Output Tubes.
Power Supply Capacitors United Chemicon.
Porcelain Tube Bases.
Double Face Printing Circuit with Separate Signal & Power Path.
Hand Made Ultralinear Multi Layer Output Transformers.
High Grade Polypropylene Signal Capacitors.
Metal Film Resistors with Low Tolerance 1%.
Gold Plated Input Connectors Ultimax.
Nickel Plated Output Connectors Ultimax.
Five Years Guarantee.
Specifications :
Output Power
Pentode Operation : 35W (EL34) / 45W (6550)
Triode Operation : 20W (EL34) / 28W (6550)
Harmonic distortion :
1W/40Hz : 0,42%
1w/1kHz : 0,41%
1W/20kHz : 0,87%
10W/40hZ : 0,84%
10W/1kHz : 0,90%
10W/20kHz : 1,80%
Intermodulation (60Hz/7kHz r1/4) :
1W : 2,20%
10W : 5,10%
Frequency Response :
1W/-3db : 5Hz-60kHz
10W/-3db : 7Hz-62kHz
20Hz-20kHz : <0,2db
Other Specifications
Rise time : 4µs(10kHz)
Signal to Noise Ratio : 85db
Input resistance : 100KΩ
Output Resistance : 6Ω
Input Voltage : 350mV- RMS
Power Supply Energy : 200Joule
Power Consumption : 400W
Weight : 18kg
Dimensions (WxDxH) : 29x47x21 cm