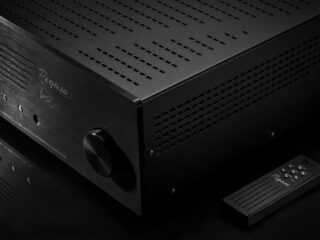 PRIS:
59 900 kr
med media kort
The first Pegaso product is P50A, a 50W amplifier in class A with push-pull configuration and fully balanced circuit. The circuit design is very simple: the preamp section is limited to the inputs selection and volume control, while the power amplifier stage is made of 4 x 6922 and 4 x KT90.
The components are carefully selected as for reliability (the components chosen are all long-life at high temperature in order to guarantee reliability) as for the sound performance thanks to the choice of audiograde components in key points. The whole control part is managed by microcontroller with dedicated software.
4 different volume scales can be selected in order to perfectly match the gain to the speaker sensitivity and one of the inputs can be used as power amplifier input (by-passing the preamp section). This solution allows for example to continue using the P50A for the two main channels into a home theater system. P50A is available in silver or black finish and is equipped with a remote control made of machined solid aluminium.
N° of channels
2
RCA inputs
4
XLR inputs
2
Output power
50W
Input impedance
100KOhms
Frequency response
10 Hz to 100 Khz (0.5 dB 1W)
Signal to noise ratio
83 dBA
Total Harmonic Distortion
0.3% (10W)
Standby absorption (230VAC)
0.7W
Dimensions (LxAxP)
455 x 175 x 472mm
Weight
26 Kg.