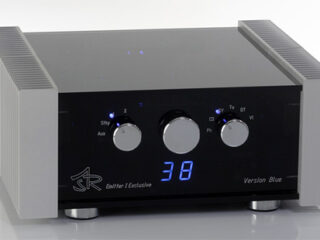 PRIS:
113 000 kr
med media kort
Integrerad förstärkare, diskret uppbyggt förstärkare, 160watt/kanal/ 8 ohm, 700VA trafo/ kanal. Relästyrd volymkontroll, 1dB volymsteg, 1 st separat nätdel, komponentval av absolut högsta kvalitet, förberedd för batterinätdel till ingångsteget, finish i svart, vikt 49kg.
The Emitter I Exclusive offers a precise sound picture that is fast, deep and three-dimensional. The Emitter I Exclusive has a battery power unit for the line stage like it's big brother – the Emitter II Exclusive. This gives the amplifier a more precise sound stage and allows low frequencies to have more power and precision. Like the Emitter I standard, the Exclusive also has a single power supply unit. The separate power supply unit is equipped with two powerful PM (Philbert-Mantelschnitt) transformers with a smaller PM transformer for Standby operation. The two power transformers are switched ON softly with 5 high power relays in the energy saving mode. If required, they can be switched via a current limiter into normal operation mode. In the power supply unit, 8 different voltages are generated. Every voltage is rectified individually and pre-buffered. These voltages are used to supply the input amplifier, driver, output stage as well as the control circuit separately. The Emitter I is connected to the power supply unit with a 2 meter long double shielded cable.
OBS!
Här har du även möjlighet att uppgradera din Emitter I Exclusive genom att köpa till en batterinätdel till förstegsdelen som heter Battery Unit.
ASR Battery Unit: Batterinätdel till förstegsdelen. Mått: 460x160x320 mm, vikt 26kg och kostar 34000 kr/st.
2 x 160 Watts into 8 ohms
Total buffering capacity 606.440 uF
1 x XLR balanced input
Specially designed Metal Feet
Double monaural construction in single casing, mirror symmetrical design
MOSFET Class A/B technology
Separate power unit with energy management control
6 relay driven high level inputs
1 recording output
Slot for phone preamplifier or balanced input
Volume control with relays in 1dB steps
Protection circuits against overload, override, short circuit, excess temperature and DC voltage
Signal to noise ratio on high level input: 88 dB
Rise time lower than 1 µs
Distortion lower than 0.01%
Damping factor: more then 600
Dimensions of the control unit: 42 x 42 x 18 cm
Dimensions of the power unit: 46 x 32 x 16 cm
Weight of the amplifier: 22 kg
Weight of the power unit: 32 kg